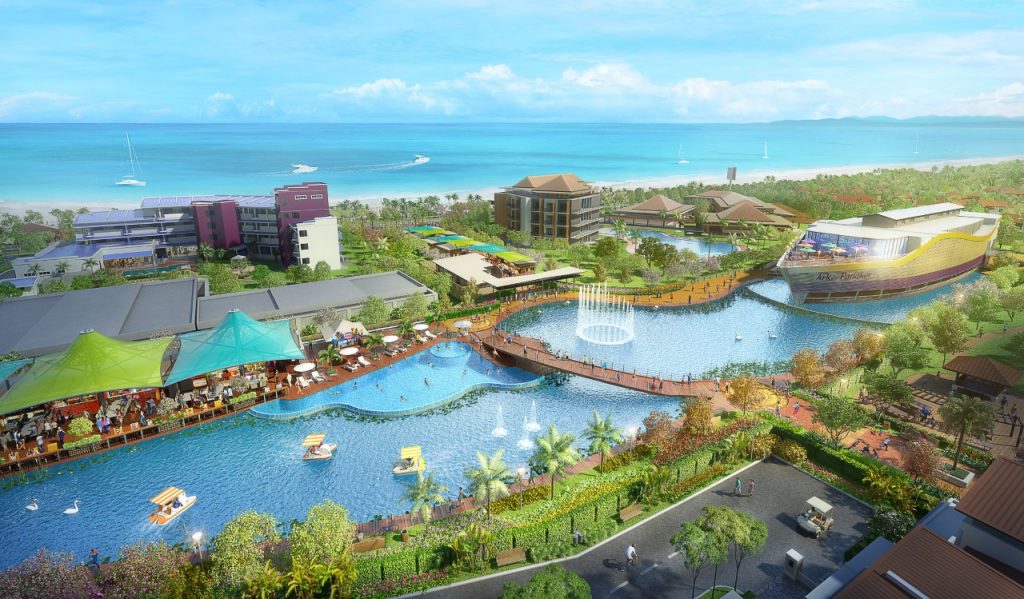 Pangkor Island is a well-known resort island located in Manjung District of Perak State, Malaysia. Having a local population of approximately 30,000 people consisting of visitors and tourists, the island is one of Perak's most visited tourist destinations.
According to the Ministry of Tourism Malaysia, Perak recorded one of the highest numbers of tourists' arrivals in Malaysia, with over 6 million visitors in 2016.
The Perak State government is targeting a 10% and 20% increase in international and domestic tourists' arrivals respectively, for this year's Visit Perak 2017. Pangkor Island has a land area of 18 kilometres square and is only 3.5 kilometres (2.2 mi) off the coast of Peninsular Malaysia. Naturally forested in most parts of the island, the island boasts a green ecological environment, and clean air. It is also home to 65 reptile species, 17 amphibian species, and 82 total herpetofaunal species, making it one of the most rich and abundant islands in terms of flora and fauna in Malaysia.
Being a popular destination for foreign and local tourists alike, the island's tourism industry had been expanding in terms of facilities and increasing number of visitors. It is a popular island resort and can get very crowded during weekends and public holidays.
Pangkor ranked highly among Malaysia's most beautiful islands, and features one of the world's prettiest and most tranquil beaches with indigenous Malaysian fishing villages that had changed little despite advancement of time. Pangkor also boasts great local food.
A Gem with Catchment Islands & Bays
Catchments had been a term being used by many real estate investors, consultants and enthusiasts alike. It is long recognized by the real estate industrial players as one of the most crucial factors when it comes to making a decision to purchase or invest in property.
Pangkor Island, is a gem that possess good catchment areas. Pangkor is surrounded by a variety of nearby islands including Pangkor Laut Island, Talang Island, Giam Island and Mentagor Island. The major activities of these islands are tourism and fishing.
Pulau Sembilan, another cluster of islands nearby is famous for being a fishing haven with 13 islands to hunt for all kinds of fishes. It is a Marine Park and a heaven for divers.
There is also Pulau Jarak, known for being the best diving island in Pangkor region. The water there is crystal clear up to 20 m for 70% of the year. Many tourists would go for island hopping, and there is an increased activity in recent years. This boosts the position of Pangkor Island as one of the tourists' hotspots in Perak.
Various Holiday Attractions
On the east side of Pangkor Island there are three fishing villages facing the mainland: Sungai Pinang Kecil, Sungai Pinang Besar and Kampong Teluk Kecil. In fact, it is a long strip of villages that continues to Pangkor Town. Although the villages are small, they are interesting to visit. Many of the houses are traditional and some are built in the sea on stakes.
Besides, one may also choose to visit the town of Pangkor. The main town in Pangkor Island is located on the eastern coast of the island. It is a small town and only has one main street. There are souvenir shops, dried seafood shops, coffee shops and restaurants along the street. Some of the best food can be found in the local stalls. One of the favorite's choice for breakfast among the local and visitors, is the restaurant opposite of the Kheng Hai Chuan Fishery shop, which can be recognized by the bird nests attached to the signboard.
There are also several historical buildings including the Dutch Fort, Fu Lin Gong Temple and Mini Greatwall, Batu Bersurat (inscribed stone), and Kali Amman Temple. While many of the traditional villages still exists, there are always plenty of things to do in Pangkor Island. Many local tourists would go for parasailing, jungle trekking, motorbike tours, bicycle tours, taxi tours, hornbill feeding, snorkeling and even kayaking!
Development of West-Coast Expressway
With the on-going construction of the West Coast Expressway (WCE) which is due for completion by 2018, WCE will reduce travel time from Kuala Lumpur to Pangkor Island from 3 hours to approximately one and a half hours.
The completion of the WCE is expected to boost the popularity of Pangkor as even more tourists are expected to visit Pangkor Island for holidays.
Pangkor as a Destination for Investment in Resort Properties
Many Malaysians, including the rich and middle income brackets purchase at least a second home in Malaysia. If you are looking for a resort property, Pangkor Island will be among the better choice. This is due to the fact that Pangkor is easily accessible from both Penang and Kuala Lumpur as it is situated mid-way between the two major cities.
While travelling to the coastal town of Lumut, one can drop by Ipoh, the State Capital of Perak to savor the delicacies or even travel to one of the two cities from the island. In Pangkor, Property Times visits DC & A Developments Sdn Bhd to explore more about their exciting projects available for resort property investments.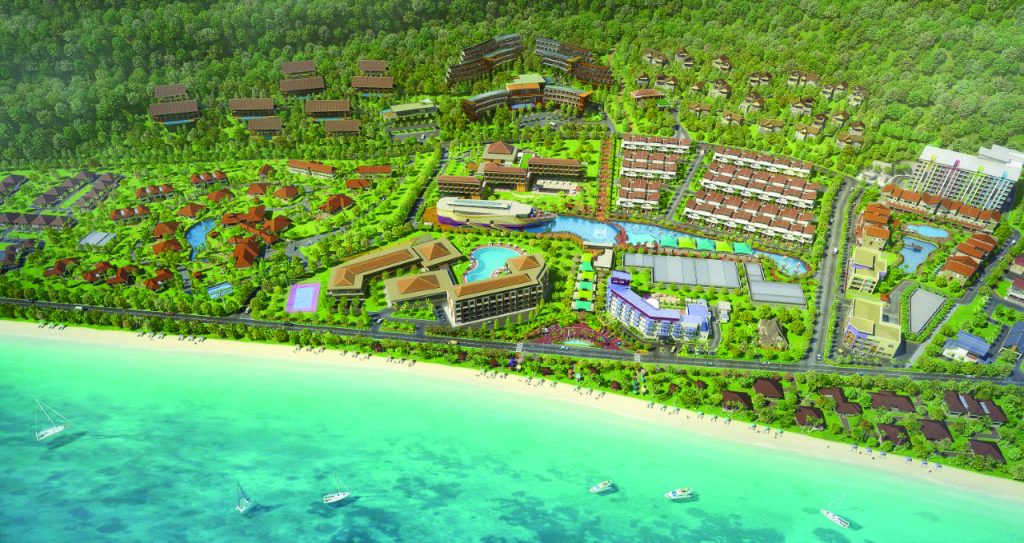 Pangkor Resort World – Pangkor's Most Strategic Location
DC & A Developments Sdn Bhd is the leading developer in Pangkor Island, pioneering the development of an integrated comprehensive beach resort development comprising of completed projects including Pangkor Lot 10 and the Government Chalets Project. The on going development of 88 Resort Villas and a Tourist Hotel are both scheduled for completion before June 2017 while Villaku ResortStay will be completed by April 2018. The projects are well received by the local community and its surrounding catchments response has remained strong. This is especially so as the project is a major development with a critical mass comprising of a wide myriad of activities and facilities. Fronting the project is the Pasir Bogak Beach, which is the most popular beach in Pangkor Island and is about 2km from the main jetty. Besides, the beach has gentle tidal waves overlooking the Straits of Malacca, which features amazing romantic sunset views. One can just stay beside the beach, relax and watch the waves in a serene, quiet view, or simply have a relaxing stroll beside the amazing sandy beaches.
A Good Investment Opportunity
According to the Managing Director of DC & A Developments Sdn Bhd, Datuk Dr. David Chua, he said "Malaysia has one of the highest numbers of public holidays compared with many other nations. Should we consider summing the weekend holidays, school holidays, festivities and public holidays as well as semester breaks for students, there are approximately 150 non-working days in Malaysia. This explains why there is always large influx of tourists pouring into Pangkor Island".
According to the Tourism Board of Perak, there are more than 3,000 tourists going in and out of Pangkor Island during weekends and public holidays. The Perak State Government together with the Federal Ministry of Tourism is promoting "Visit Perak 2017" and it is anticipated that the number of tourists' arrivals would continue to grow even further.
Unlike other beach destinations in Malaysia, Pangkor Island is easily accessible. One can take a self-drive holiday or catch a bus from Kuala Lumpur to the ferry terminals at Lumut or Marina Jetty Complex. The ferries from Lumut to Pangkor take 35 minutes and operate 7am to 8.30pm daily. The Marina Island Jetty operates a direct ferry service to the Pangkor Main Jetty which takes only 10 mins which departure schedules every hour on the hour from morning till late. Pangkor also has an airport, catering for chartered flights. The prospects of regional airline operating regular flights from nearby airports are promising. Besides, the West-Coast Expressway which is expected to be completed in mid – 2018 would cut down the travelling time between Malaysia's capital Kuala Lumpur to Pangkor from 3 hours to a mere 1.5 hours.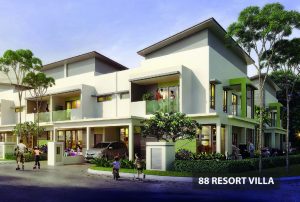 Villaku ResortStay (Freehold)
Completion by April 2018
This project features a total of 190 units for operations as a "ResortStay" type of accommodation, resembling service apartments. Villaku ResortStay features affordable units with a built-up area from 625 sqft to 830 sqft. Each typically has 2 bedrooms with attached bathrooms, a dining area, lounge, and kitchenette. Some typical units have balconies, allowing most of the units to have a view of the sea beyond Pasir Bogak beach. Built on freehold land with land title designated for commercial development in tourism zoning, Villaku ResortStay is a good choice for many to either invest, or for own occupation.

88 Resort Villas (Freehold)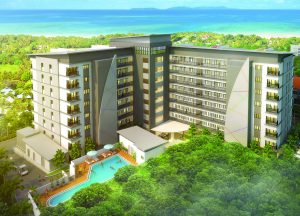 Completion by April – May 2017
88 Resort Villas features a gated, tourism centric & commercial project with classic designs and quality construction. It takes minutes to walk to the Pasir Bogak Beach front. The low density, open concept design takes advantage of the island's breezy and carefree lifestyle. Adjacent to the 88 Resort Villas is a mini theme park with water based features and activities which will be the focal point and iconic landmark of Pangkor Island. Based on the plans of the property, the property features corner lot and intermediate types, both with very spacious and ergonomically good accommodation including 4 bedrooms, living room, dining area, kitchen, a utility room, and family hall.
Conclusion
Thus far, most Malaysians would choose to purchase and invest in either residential properties or commercial properties, and there is little awareness of the potentials and prospects of resorts properties. Malaysia has several well-known resorts, either in the hills, beaches or islands. In this instance, Pangkor island is unique: it has excellent beaches, an indigenous tropical rainforest which boasts 200 millions years of its glorious existence and golden sandy beaches, all rolled into one for a wholesome holiday experience. More over, making one's way there is an experience of land, air and sea as Pangkor is accessible by air (chartered flights, and soon commercial flights), by road up to coastal town, by ferry or other sea vessels. Tourism and leisure activities are fast growing economic sectors in Malaysia, notwithstanding the occasional economic slowdown. Holiday destinations with easy access are the top preferences for many investors and purchasers alike. This underlines the reason Pangkor Island has come into prominence in last 10 years and the momentum is growing rapidly.
The demand for quality resort properties, either as an investment or for commercial operations in recent years has caught the attention of property investors and purchasers as a new field that offer abundance of potentials and prospects. Thus, resort properties provide an extremely attractive, and viable alternative to the traditional residential properties, shop-lots and alike. Pangkor Island's climatic conditions offer an all year round summer ambience. It is equidistance from the northern and southern regions of Peninsula Malaysia. With Expressways leading to the coastal town, driving distances are within a maximum of two hours. Easy accessibility is the single most important factor apart from what Pangkor Island – the Treasure Island of Malaysia, has to offer.
Look no further and seize the opportunities and check it out what is in store for you.
DC & A DEVELOPMENTS SDN BHD
DC Avenue, 33, Jalan Sri Hartamas 17
50480 Kuala Lumpur, Malaysia
Tel : +603-6201 9333
Fax : +603-6201 9939
Email : dca@dcnagroup.com
CLICK TO GET FREE INFORMATION PERTAINING TO THIS PROJECT NOW