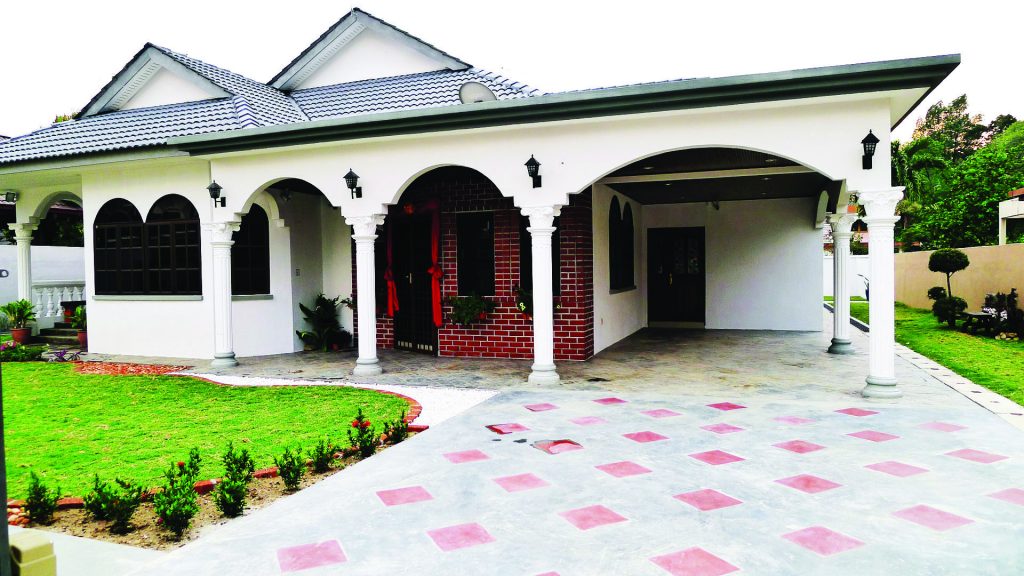 Vintage Bungalow in an Affluent Neighbourhood
Property Times had the opportunity to visit one of Ipoh's reviving neighborhoods – Taman Golf. Taman Golf is notable in Perak as one of the earliest upscale residential neighborhood in Ipoh City. The neighborhood boasts of having all units in the surrounding as custom built bungalows, until a new development features Semi-Detached Houses in the vicinity. It was home to many professionals, doctors, accountants, developers and the rich alike. Due to the passage of time, many of these bungalows had faced serious deterioration, and yet there are those who invest in them – and revive them into comfortable homes with a twist of design and style. Property Times took the advantage to visit one of the refurbished houses in the prestigious neighborhood located at No 3, Persiaran Gopeng 8, Taman Golf 31350 Ipoh Perak.
The house has an antique styled facade and had been renovated into an amazing house with small attached gardens at the side, and incorporates Western styled entrances.
Amazing Gardens and Interior
There is a garden at the   front of the old bungalow, with water features, potted plants and grown with Japanese grass. It is crucial to note that when renovating your house, try to include gardens at the front instead of the boring concrete flooring. A garden could provide occupants a refreshing environment
which in the long term, adds in a "lively feel" for residents. Besides, gardens are proven by many scientific papers to cool houses, provide good circulation and add beauty to the house. After all, we love the earth don't we?

As you enter the house, you will immediately notice the interior is somewhat different from ordinary houses. There is an antique bar at the left of the living room, overlooking the main hall that connects to all the rooms in the bungalow house. The owner of the house even fitted antique bottles, classical props (like boats and paintings) and antique-classical furniture. This is a good tip where all the props, furniture and design should be of a same, harmonious theme.
Themed & Comfortable Rooms
The bungalow has an accommodation of 5 themed rooms, each with a unique design that offers comfortable beds with air condition in a quiet neighborhood. Its quiet surroundings, themed with the designs form a comfortable and peaceful environment. All in all, the bungalow as a whole could fit 22 persons. Some of these rooms even come with a private attached garden. The rooms are painted delicately in a way of its own theme and style, providing a different environment as you enter each of these rooms. This can be adopted by homeowners who are renovating their houses, where they could paint each room differently for a different theme.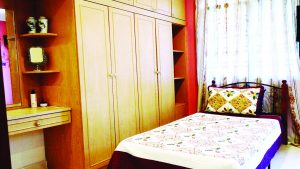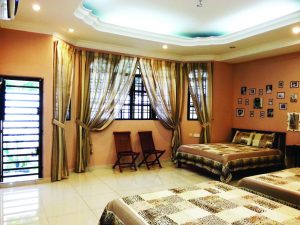 Convenient Facilities

The bungalow features four attached bathrooms, a dining hall, a small kitchen, spacious gardens at the front and back for barbecue, activities and gatherings, a living room, in-room LCD televisions, and multiple car parks for convenience and ease. A house should be renovated or designed in a way to accommodate multiple rooms and gardens for easy family planning, family activities and events. This single storey bungalow had been able to accommodate the required facilities appropriately.
Location
Located at one of Ipoh's upscale residential areas, the location of this bungalow is located right in the city center. It is easily accessible via Simpang Pulai from the South (Kuala Lumpur) via Jalan Raja Dr. Nazrin Shah and via Jalan Sultan Azlan Shah from the North (Penang). The bungalow is located in close proximity to a wide range of restaurants, shops and tourists attraction places where all are within 10 minutes' drive. It is only a 5 minutes' drive to variety of cafes and restaurants including McDonalds, Chinese Food Court, KFC, Pizzahut, Starbucks, Dominos Pizza, Ipoh Kopitiam, Secret Recipe and Tutti Frutti.
It is also within 5 minutes' drive to Gunung Rapat Police Station, Maybank, Public Bank, CIMB, Pos office and the on-going development of Silveritage Galleria (an open air mall). This bungalow is currently up for rent! It is suitable for weddings, short to long term stays and also for leisure. A certainly not to be missed bungalow!
This Bungalow is currently up for rent! It has a capacity of 22 Beds and is suitable for weddings, homestay and long term tenancy. For more querries, you may contact the owner below:-
IPOH IPOH BOUTIQUE BUNGALOW
No 3, Persiaran Gopeng 8, Taman Golf,
31350 Ipoh, Perak Malaysia
Tel : +6017-5566888
Web : www.ipohhomestay.com.my